Drum roll please...
The new program is called --
(Deep breath)
The Zero Point
The subtitle is --
How to Enter the Realm of Limitless Possibilities
Whew!
This program builds on everything I've ever revealed before, yet goes beyond it to help you achieve and attract miracles so big (and so quickly and easily) that they will surprise even you.
It sure surprised ME.
I was there in the studio when I got out of the way and allowed inspiration to guide me.
The results are stunning.
The program reveals everything you need to lead a life of awe and wonder.
It also reveals something never explained before:
The Law of Zero.
That alone will change your life forever.
But I also explain the three levels of mind, and so much more.
I promise you one of the most uplifting, mind stretching, heart opening, and unforgettable audio experiences of your entire life.
Trust me and go take a look.
In this extraordinary brand new, leading edge, breakthrough audio program, you'll discover:
Advanced clearing techniques that will erase ALL of your limitations (even those that seem, on the surface, to be good)
The secret to getting an even better version of what you want
The little known level of consciousness you need to be clearing at
The "tell" that lets you know you're in the flow of pure inspiration
The *real* source of every problem
The incredible clearing tool right in your own kitchen
How to put your clearing on autopilot while you sleep
Specific techniques to receive inspiration on your relationships, career, business, and health
How to go beyond the limits of popular clearing methods like ho'oponopono
New stories, processes, and meditations to help you move to the next level
And so much MORE
This can be the turning point of your entire life.
Please go see --
Love,
Joe

Dr. Joe Vitale
www.mrfire.com
Member BBB 2003-2013
PS - For more information about Miracles Coaching®, please see http://www.MiraclesCoaching.com
Tell a friend and share this great site with others.
Dr. Joe Vitale, a star in the hit movie "The Secret," bestselling author of The Attractor Factor and Zero Limits, television guest star on Larry King Live and CNN, ABC, FOX, etc., is the world's first self-help singer songwriter.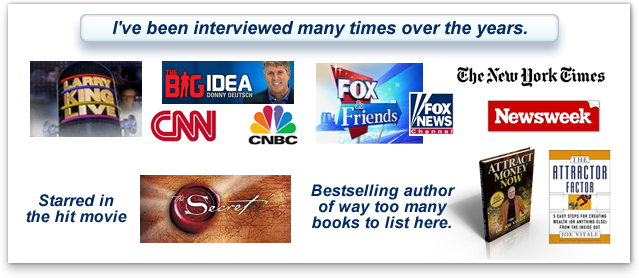 Media and Performance Requests Contact:
Suzanne Burns or call (512) 278-1610


Services are provided by Prosper, Inc., which has been selected by Joe Vitale to provide education and guidance throughout your program.
© 2013 Hypnotic Marketing, Inc., (All rights reserved)
Hypnotic Marketing, Inc., P.O. Box 2924 Wimberley, TX 78676-6314 - TX 512-278-1610
Legal Disclaimer - Privacy Policy

For customer service inquiries, please visit:
http://hypnoticmarketinginc.zendesk.com